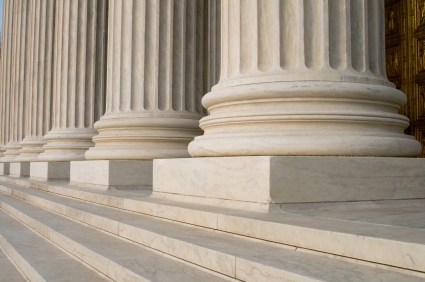 The Racketeer Influenced and Corrupt Organizations Act (RICO) is a powerful weapon in the arsenal of federal prosecutors. The statute is often used to prosecute organized crime.
Racketeering, basically, is engaging in criminal activity for the purpose of financial gain. A textbook example of RICO would be using violence to collect an unlawful debt (such as high-interest loans from the mob or payments to avoid repercussions from the mob). Generally speaking, a RICO prosecution involves a federal RICO charge and predicate offenses such as murder, extortion, etc.
The RICO statute is Title 18, United States Code, section 1962. The penalties in a criminal case for RICO include a possible 20-year sentence in federal prison. In some cases, the sentence can be life without parole if the predicate offense has a penalty of life without parole. See 18 USC 1963.
In addition to criminal prosecution, a person or organized accused of racketeering can be sued in civil court. A civil lawsuit for RICO violations is based on 18 USC 1964. Congress passed this statute to allow any person who has been injured by a RICO violation to sue. The person can ask the judge to order payment of damages and also to order injunctions (such as a restraining order) to prevent future violations.
The law says that the plaintiff can recover three times his monetary damages (also called treble damages), and also the costs of bringing the lawsuit:
Any person injured in his business or property by reason of a violation of section 1962 of this chapter may sue therefor in any appropriate United States district court and shall recover threefold the damages he sustains and the cost of the suit, including a reasonable attorney's fee.
See 18 USC 1964(c).
This statute is a strong law for plaintiffs because it is not necessary for the defendant to have been already convicted of criminal RICO charges. In fact, the plaintiff does not have to prove the criminal violation beyond a reasonable doubt.
The reason is, a lawsuit under 18 USC 1964 is a civil case. It is not subject to the same burden of proof as the prosecution must face in a criminal case. The civil plaintiff only has to establish his case by preponderance of the evidence, which is like proving something is more likely true than not.
The elements of a civil RICO case are, generally, the following:
RICO violation.
Injury suffered by the plaintiff.
The violation was the proximate cause of the plaintiff's injury.
A plaintiff cannot sue civilly for RICO concerning the sale of securities, however, unless the defendant is convicted of securities fraud.
The law also provides that if the plaintiff is the United States, and the court enters a final judgment against the defendant for a civil RICO claim, then the defendant can no longer contest the RICO violation for purposes of later lawsuits.